Frequently Asked Questions
What is Kardy?
Kardy lets you create a digital greeting card that can be signed by multiple people (family, friends and coworkers). You create the card and tell us where and when to send it. Then you invite other people to sign by emailing them the card URL link. By using Kardy, you no longer have to discreetly pass the "manila folder" around the office or amongst friends.
How much does it cost send a card?
Each card costs $3 USD. This includes unlimited signers, the ability to add images and videos and all other features available. We also have monthly subscription plans which allows you to buy many cards at discounted prices.
Does Kardy work outside of the U.S.?
Yes! Our service is purely digital, so we are able to electronically deliver cards to individuals all around the world.
Do I need an account to add a message to a card?
No you do not. You can sign the card without creating Kardy account or logging in. There are benefits of creating an account though, such as editing and deleting your message, leaving comments, responding with emojis and reciving notifications. So we highly recommend you to do so. Plus you can use the same account to create cards yourself and sign other cards in the future.
How do I edit or delete my message?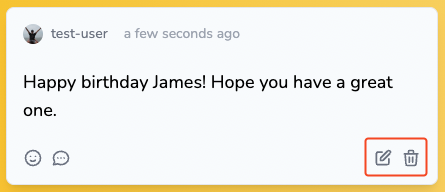 Make sure you have Kardy account. Once you have signed a card with your message, you can click on either the
Pen
icon to edit or
Trash can
icon to delete as shown in the image above.
Can I edit or delete my message once the card is sent?
No you cannot. Once the card is delivered to the recipient, you won't be able to edit or delete your message. You can of course interact with the card with comments and emojis.
How do I schedule my card to be delivered at certain date?

Click on the
Card Settings
as shown above.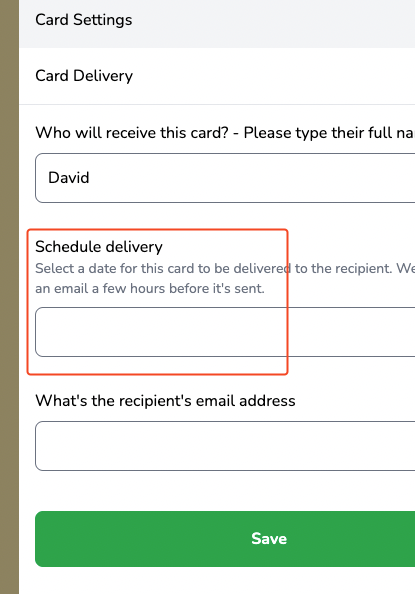 And you will see
Schedule delivery
. Select a date you want the card to be delivered at. You can re-schedule it any time as long as the current date has not passed the scheduled date.
As a sender, is my unsent card available to edit forever?
Yes. Your card will always be available in your Kardy account.
As a recipient, is my card available to view forever?
Yes. We strongly recommend you claim your card by creating an account though.
As a recipient, is my card available to view forever?
As a sender each card has a unique link, anyone with that link can see and add messages to it until it is sent. Once the reciepint receives the card they have an option to make the card private at any time.